"FEAST YOUR EARS" DOCUMENTARY PRODUCTION TEAM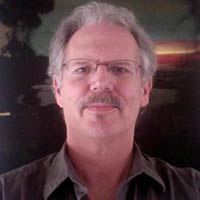 Jay Schlossberg
Executive Producer, Director
At 17 years old, already a huge fan of 'HFS, Jay got a short lived summer job there and his life was forever impacted by the music, the vibe and the DJ's. It lit a fire in him, becoming a musician for a time and now, 45 years later, has the honor and privilege to tell the story about one of the most beloved and legendary commercial FM stations ever to grace the airwaves.
For the last 25 years Jay has owned Media Central, LLC and is Executive Producer of Media Central Films. He has over thirty years in the film/video industry, in that time Media Central has become a leader as a global crewing and production services broker/agent throughout the US and 111 other countries. Clients include HBO, Lucasfilm, Discovery Channel, Paramount Pictures, Mark Burnett Productions, National Geo TV, Showtime, BBC Worldwide and many others. Jay is currently a member of the Producers Guild of America (PGA) as well as NPACT.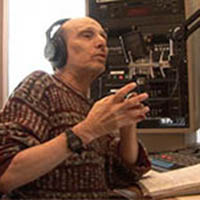 Jonathan Gilbert aka "Weasel"
Consulting Producer
Bronx born and raised in Long Island, legendary deejay "Weasel" got his music and radio bugs at at American University in DC where he joined the student radio station WAMU in the late 60's. In 1970 he was hired by WHFS 102.3 FM and his 45 year career began and is still flourishing today. He spent 13 years on WHFS 102.3 FM and then another 20 years with 99.1 FM. Along the way Weasel worked with fifth Beatle and deejay "Murray the K" who once handed him a slip of paper with a phone number on it and said, "Please call this number and get John Lennon on the phone". Currently he can be heard as the host of "Weasel's Wild Weekend" on Towson University's 89.7 WTMD.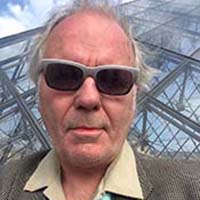 Dick Bangham
Producer, Editor
Dick is an accomplished visual artist whose work has been in the public eye since the 1970s, appearing in The Washington Post, AFI Journal, Washingtonian, among others. He designed hundreds of covers for artists including Mary Chapin Carpenter, Nils Lofgren, Little Feat, Bootsy Collins, Cathy Fink & Marcy Marxer, The Nighthawks and Root Boy Slim, many featured on WHFS. Recent work includes an Emmy nominated documentary "The Bayou: DC's Killer Joint", a profile of 2014 Rock & Roll Hall of Fame inductee Nils Lofgren for "My Generation." In 1994 Dick founded Rip Bang Pictures. He served on the Board of Governors of the National Academy of Recording Arts & Sciences and is a current member.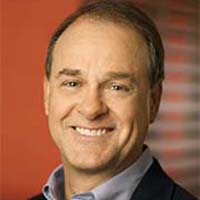 John Ford
Executive Producer
John Ford is General Manager of NPACT, the trade association for North American nonfiction producers and Head of Programming for multicast networks Justice and Quest (the latter launched Jan. 29, 2018). A former Discovery and Nat Geo executive, he has headed Discovery Channel US, TLC, Discovery Networks' US content group, Discovery Health Channel and programming/production for Nat Geo Channel. He has appeared on CNBC's "Closing Bell" as a media stock commentator and routinely appears on industry panels. He is an investor in several tech start-ups and frequently advises investors on the media marketplace.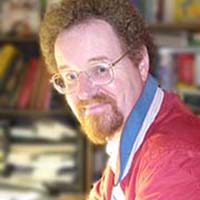 Dave Nuttycombe
Story Editor
Dave is a filmmaker, journalist, and musician whose byline has appeared in the Washington Post and on National Public Radio, in addition to many other local and national publications. He was a co-writer/producer on the Emmy-nominated documentary "The Bayou: DC's Killer Joint," which aired on more than 70 PBS stations. He helped launch Washington City Paper's website and was editorial director of its music-centric site, inDC, profiling bands and musicians. In 2011 & 2017, the American Film Institute Silver Theater hosted retrospectives of his film work. Dave has won awards from the Association of Alternative Newspapers, the Association of Visual Communicators, among others. He has opened for Weird Al Yankovic and Doug Clark and the Hot Nuts and is available for parties, weddings, and Bar Mitzvahs.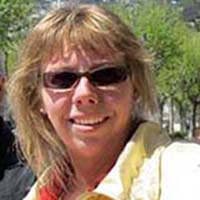 Linda Bangham
Associate Producer & Web Design
Linda has over 25 years experience in graphics and multimedia. She earned a degree in Communications in 1979 and has owned her own companies since 1984. Currently as Vice President of Rip Bang Pictures Inc. she has been nominated for a CableAce Award as Associate Producer of a series broadcast on TLC/Discovery; Associate Producer for two series on HGTV; Art Director for national magazines including Polo; designed music packages for national artists, media campaigns, website development and design. Clients include Nils Lofgren, Little Feat, the Nighthawks, Deanna Bogart, and more. She held a position on the Board of Directors of WIFV from 2002-2005 and is currently a voting member of the National Academy of Recording Arts and Sciences.